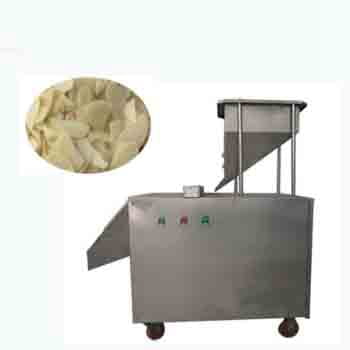 Product structure of the almond slicer/walnut slicer/cashew nut slicer machine:
Nut slicer machine is widely used in the intensive production of peanut kernels, almonds, cashew kernels, walnut kernels and other nuts for slicing.
The nut slicing machine is composed of frame, motor, rotary cutter, positioning device, and feeding hopper and outlet hopper.
The nut slicing machine is equipped with fixed and universal wheels, which are easy to move. Two supporting bolts are installed at the lower part of the nut slicer machine, which functions as the bracket during production so as to make the machine working stably.
Working principle:
Put the peanuts into the hopper and adjust the quantitative gate of the hopper to adjust the amount of peanut feeding. When the peanuts drop down to the feed locator for forced positioning, the rotating knife plate can be rotated at high speed to slice the peanuts.
The Advantage of Almond Slicer:
The almond slicing machine is compact in structure, durable in use, ease of operation.
As an all-in-one slicer, it can process all kinds of nuts, so that it saves investment in equipment purchasing.
The quality high-speed stainless steel blades are mounted inside of the peanut slicer, which has sharp edges and long service life. The stainless steel construction of the almond slicing machine meets the international standard on food hygiene. Besides, all parts contacting with the raw materials are made of 304 stainless steel.
The advanced pneumatic feeding device is adopted. After pouring the almond/cashew nut/walnut through the feeding hopper then into the slicing chamber, under the pressing force of the pneumatic feeding device the nuts are conveyed into the cutter and to reach the ideal slicing effect. The thickness of walnut slices/ cashew nut slices/almond slices is adjustable meeting the production requirement.
High quality with reasonable price, the cashew nut slicer is cost-effective and worth investing.
Final product: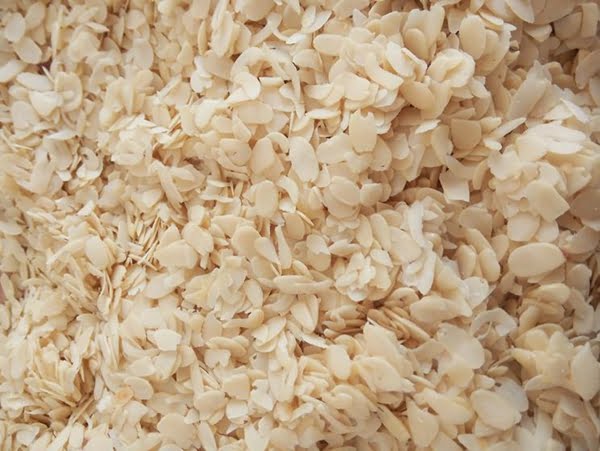 Principle parameters:
| | | | |
| --- | --- | --- | --- |
| Power | Dimension | Weight | Capacity |
| 380V/50Hz/1.5kw | 1000×650×1200 mm | 220kg | 50—300kg/h |